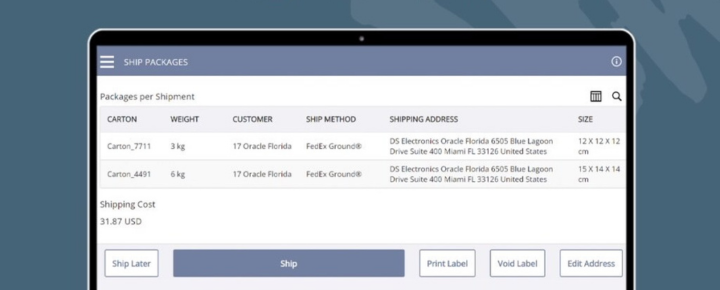 "Now, more than ever, warehouse operations are under pressure to increase output without additional resources to do so."

- Evan Goldberg
Oracle NetSuite has unveiled its new NetSuite Ship Central. The new product was announced on September 28th at SuiteWorld 2022 in Las Vegas, Nevada, by the Founder and EVP of Oracle NetSuite, Evan Goldberg. NetSuite releases many new products that have varying impacts on general business operations and specific industries. But many companies expect this to be one of the most significant improvements for companies running their Warehouse Operations on NetSuite.
What is NetSuite Ship Central?
NetSuite Ship Central is a mobile application that will help organizations optimize operations, eliminate manual processes, and accelerate customer deliveries by providing end-to-end capabilities for picking, packing, and shipping products. The solution will equip warehouse workers with picking, packing, and shipping tools on a mobile device or kiosk, allowing for greater flexibility and accuracy within standard warehouse operations. The Ship Central app will also help warehouse managers enhance the entire packing-to-delivery process. 
NetSuite Ship Central and WMS
Many people are wondering how NetSuite Ship Central will interact with NetSuite WMS (NetSuite's existing Warehouse Management System Module). With NetSuite WMS, Ship Central optimizes warehouse operations across SKUs, processes, and locations. Additionally, it provides end-to-end capabilities for picking, packing, and shipping items.
"As an item is scanned, the WMS mobile application immediately updates or creates the proper transaction and associated inventory data in NetSuite, providing transaction and inventory transparency across the entire organization" - Oracle NetSuite
The mobile application is expected to expand NetSuite WMS capabilities, enabling organizations to optimize fulfillment processes and reduce shipping costs and transit times. For example, it eliminates unnecessary steps and allows organizations to pick packages faster, determine the best shipping carrier based on the delivery date or type of location, print shipping labels, track packages more accurately, and create documentation around fulfillment.
.
How can Ship Central Help Companies?
NetSuite has indicated d ed that with NetSuite Ship Central, companies leveraging warehouses can benefit from the app by being able to:  
Locate Shipments Easily 
Combine Multiple Shipments  
Print and Reprint Labels at Any Point  
Track Packages in Real Time 
Customize Ship Processes 
So let's break down each of these capabilities in a little more detail:
Locate Shipments Easily 
One aspect of warehouse management that can significantly improve operational efficiency is reducing the time it takes to locate and pick items to be packed and shipped. NetSuite Ship Central will enable warehouse workers to quickly determine and find shipments that need to go out by simply scanning a pallet. Warehouse workers can also select from a list of shipments. This functionality reduces the time spent locating orders and information.
Combine Multiple Shipments 
NetSuite Ship Central can help businesses find products that are going to the same single location based on common criteria, including addresses, carriers, or shipping routes, and combine these shipments, resulting in increased efficiencies and lower costs. Once these items have been identified as going to the sale location, it will pack them all in the same shipment for greater efficiency. Functionality related to identifying products going to a single site based on common criteria also will help companies working across multiple shipping carriers.
Print and Reprint Labels at Any Point 
We already mentioned one way that NetSuite Ship Central helps improve operational efficiency in the 'pick' stage of the 'pick, pack, and ship' process. Ship Central can also help companies speed up the 'pack' and 'ship' stages regarding package labels. Companies will have greater flexibility with the ability to print labels, reprint damaged shipping labels, change label information, and replace missing shipping labels on packages at any point during shipment. In addition to speeding up the initial labeling process, this will reduce the occurrences of packages getting stuck part-way through the shipping process due to a labeling issue.
Track Packages in Real Time
Across industries, customers indicate that they want more visibility into the status of their orders, including the shipping route and progress. Ship Central will enable companies to provide this heightened visibility to customers by allowing them to track their packages more closely in real-time via carrier tracking numbers. This functionality has the potential to greatly increase customers' trust in a business and improve the customer's ability to plan around up-to-date estimated delivery times.
Customize Ship Processes 
Returning to our breakdown of how Ship Central can help speed up the pick, pack, and ship' process for warehouse operations, there's one more significant benefit that NetSuite's Ship Central will be bringing to the 'ship' stage. Companies can expect to improve their warehouse operations' efficiency by allowing modification of workflows to support unique business requirements. In addition, customizing the shipping process for specific customers will enable companies to be more flexible in their fulfillment, which may even help them attract additional customers.
.
Summarising Benefits for Warehouse Operations
The benefits of NetSuite Chip Central, as outlined during the product release, are easier consolidation of shipments, adjusting shipping routes for cost efficiency, and customizing workflows to meet business demands. Additionally, when introducing the new mobile app, Evan Goldberg indicated that Ship Central provides intelligence and insights to optimize the fulfillment process.
"With NetSuite Ship Central, we are extending our capabilities to help customers further automate time-consuming warehouse operations to increase output and efficiencies. By making it easier to consolidate shipments, adjust shipping routes for cost efficiency, and customize workflows to meet business demands, Ship Central provides intelligence and insights to further optimize the fulfillment process, decreasing cost and increasing customer satisfaction."

 

-

Evan Goldberg
Ship Central provides end-to-end capabilities for picking, packing and shipping products. It eliminates unnecessary steps in the preparation and shipping process, helping organizations pick and pack items faster and determine the best carrier based on various parameters, including delivery date and delivery location type. In addition, the mobile application helps warehouse management optimize fulfillment processes, speeding up delivery times and ultimately minimizing total shipping costs.
---
5 Related Solutions to Explore
Whether your Manufacturing, Distribution/Warehouse, or Wholesale company already runs on NetSuite or you're just beginning to explore it as an ERP option for your business, here's a quick list of other resources that might interest you:
If, after exploring these resources, you are interested in a NetSuite or think any of these solutions may complement your existing NetSuite instance, contact our team! We're happy to answer any questions you may have.