Do you know what the trends for ERP in 2021 will be? The coronavirus pandemic brought a devastating scenario full of uncertainties, affecting all economic activities and requiring emergency measures, such as social distancing and remote work.
In this sense, optimizing digital resources and tools has become extremely useful to maintain managerial activities. This boosted the evolution of services, especially management support systems, such as ERP.
Knowing what's new to have modern and innovative solutions for management is essential for every company, especially during a difficult time. With that in mind, check out the main ERP trends for 2021 and learn how to have even more excellence in your activities!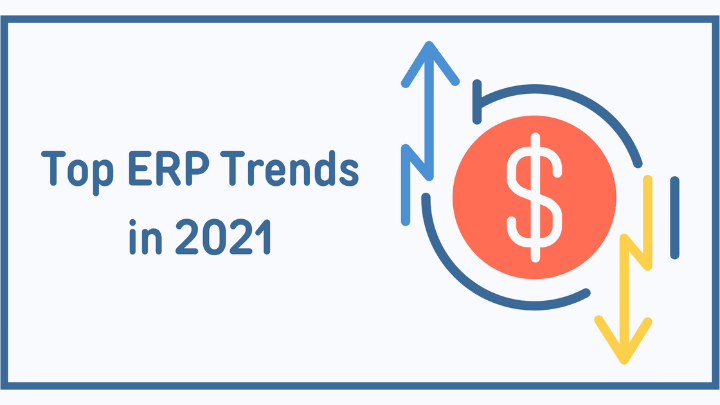 The Pandemic and ERP Changes
2020 was not an easy year and compromised the activities of all companies due to the new coronavirus pandemic. This scenario influenced the increase in prices, reduced sales, and changed the consumption habits of all people. 
Therefore, technology, which had already been advancing significantly, was never necessary to keep business activities remotely and connected. In addition to boosting performance, digital capabilities have been critical to the survival of many businesses.
Therefore, the pandemic also influenced the ERP system, and some factors had to be evolved more quickly to meet current demands. With this, the trends for the year 2021 are intense and promise news to make the work even easier.
Top ERP Trends for 2021
The pandemic will leave great lessons for the economic sector. The best use of digital resources to increase efficiency, reduce costs, facilitate communication and increase management performance.
As ERP is one of the most important management systems for companies, it targets many innovations, which will become a reality shortly. See what the trends are for 2021!
Cloud Migration
The migration of systems to the cloud promises to be a big trend for 2021 due to the numerous benefits for management. Thus, the expectation is that ERP will be more used by cloud options, especially for small and medium-sized companies. Cloud ERP, or cloud ERP, is a big innovation. See why:
Reduces costs;
Runs at high performance without having an expressive internal physical structure;
Increases competitiveness;
Has greater data security;
Reduces the time to have management solutions and control of business indicators.
Thus, anticipating and planning to have an ERP in the cloud is essential to stand out from the competition and have high-performance management and keep the business innovative and with all the resources to seek continuous improvement.
Artificial Intelligence
Artificial intelligence is already a reality in everyday life, and the trend is for it to be even more evolved and optimize ERP systems. It is a technology that aims to automate processes and make them more intuitive and efficient.
With technology evolving quickly, artificial intelligence allows managers to achieve maximum productivity with the ERP system. Therefore, it is one of the most important and expected trends, especially after the pandemic, which left countless challenges to overcome. 
In addition to reducing costs, artificial intelligence contributes to optimizing staff time, helping to focus on points that deserve more attention. It does not mean that this technology will replace all human functions, but it will allow for better task targeting.
PaaS Integration
Another trend that will be very important for management activities is PaaS integration. The expectation is integration between ERP and CRM, with more comprehensive, modern, and interactive platforms.
As a feature that also promotes significant improvements in services, the integration of data, applications, and management systems is already being implemented on certain platforms and promises to be more common in the market.
Mobility
Mobility was one of the aspects that most developed during the pandemic, as the need to work remotely required good forms of connectivity. Therefore, offering services with mobility and access from anywhere is a strong trend for management.
Thus, professionals will access the platform and carry out their tasks at home or elsewhere, as long as they have access to the internet. An advantage that will provide cost savings is that it will be possible to work in a home office with the same performance without having to travel expenses.
Above all, mobility allows for quick solutions and avoids the setbacks of a face-to-face routine. In other words, it is a trend that will increase competitiveness and contribute to faster and more accurate results.
Anchor Group: Innovative Differentials in ERP
To keep up with the best trends in corporate management, the best option is to have modern partners who are always ahead when it comes to innovation. Thus, your company will have up-to-date services according to the best in the market.
Therefore, Anchor Group offers solutions beyond a traditional ERP, as it offers incredible differentials to excel in your activities. The company is a pioneer in cloud ERP, has unified data, low-cost business intelligence, and web service integration. In addition, it offers modern solutions for your business, such as:
NetSuite CRM;
NetSuite ERP;
NetSuite Project Management;
Commerce Suite;
In addition, Anchor Group provides agile, practical implementation and solutions targeted to customer needs. In other words, all support to follow trends and grow consistently, standing out in the market.
As you've noticed, ERP trends in 2021 are essential to making management more efficient, remote, and high performance. Therefore, having this technology is essential for achieving promising results and following a successful trajectory.
---
Did you like the post? Now that you've seen the top trends for ERP in 2021 get in touch and find out how we can help maintain excellence and innovation in your business!