Forney Industries is a B2B welding and metalworking product supplier that saw a need to update and expand their e-commerce offerings. Their old ERP and e-commerce systems limited the achievement of their growth goals. After Forney's engagement with Anchor Group, they have two new SuiteCommerce sites to cater to their main customer base and a subset of Industrial Pro (IP) customers with a unique shopping experience.
Starting the Project
When Forney was about six months into a NetSuite ERP project, their team determined that the time had come for a website update, and they began looking into ecommerce platforms. As a part of Forney's research on the SuiteCommerce platform, they ordered the NetSuite Ecommerce Book written by some of the SuiteCommerce experts here at Anchor Group. It was upon reading the book that Forney decided to include Anchor Group among the implementation firms that they requested SuiteCommerce Implementation project quotes from.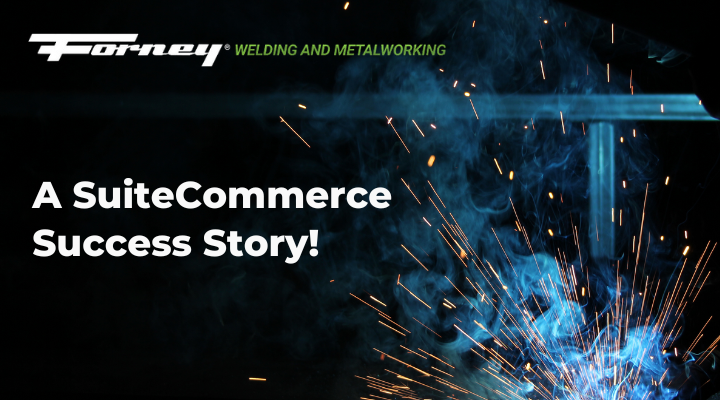 The Forney team indicated that much of their decision to choose Anchor Group as their Implementation partner was due to our team's reputation for expertise in the industry, which was also demonstrated to their team in the contents of the NetSuite Ecommerce book. But they also indicated that it was during the quoting process that Anchor Group started to build trust with Forney.
"The scoping process was very thorough and I think we saw that as part of the execution of the project." - Jose Camacho, Head of IT at Forney Industries
According to Forney, Anchor Group had actually quoted the highest number of hours to get the project done, but the quote appeared more thorough and accurate when compared to the quotes that Forney received from other implementation partners.
The Forney team saw Anchor Group's detailed and conservative approach to the quote process as a sign that the team would handle any potential mid-project snags with the same level of care. If any unexpected delays were to arise during the project, Forney knew that Anchor Group was the type of team that would be upfront and accurate regarding the level of effort associated with any necessary adjustments.
"We really appreciated that. We didn't want go through several rounds of, you know, not being able to complete the project because we hadn't budgeted enough hours or money." - Danielle Hillebrand, Executive Coordinator & Project Manager at Forney Industries
Through cross-department collaboration within Forney and other 3rd party integration providers, Anchor Group delivered a project on time and under budget with a feature-rich customer experience that eliminated unnecessary system and process bloat.
Solutions Created by SuiteCommerce Experts
What follows is a summary of some of the specific challenges Forney was confronted with and how our team used custom solutions throughout the project to resolve pain points.
Some of these are custom solutions that our team of NetSuite Developers created specifically for Forney. The rest are features that we had already built for other projects and were able to re-purpose to meet Forney's needs. This is just one more way that a company can benefit from working with a partner like Anchor Group which completes a large volume of SuiteCommerce work. Not only does this expertise lend itself to greater efficiency throughout projects, but customers also benefit from access to additional features and functionality that get unlocked.
---
Custom Catalog View
Forney's use case provided some unique challenges surrounding their SuiteCommerce licensing: they needed to host two unique SuiteCommerce sites (with separate item catalogs) on a single SCA license. To solve this, our team built a fast, reliable, secure Custom Catalog View customization. This tool allows easy product-to-domain and customer-to-domain mapping and ensures that 'cross-listed' products remain inaccessible on either site. n addition, this solution takes far less long-term maintenance than the native Personalized Catalog Views feature and is instantly responsive to new registrations.
CSV Cart Import
For a subset of Forney's customers, the ability to import large orders through CSV was an important legacy feature. e were able to recreate and improve upon this functionality in SuiteCommerce, providing an intuitive CSV Order Import tool in the Cart with robust error/stock level handling.
This extension allows customers to prepare their CSV file ahead of time and then quickly add large numbers of items to their Cart at once through a single import rather than adding each item to the Cart individually. The CSV Order Import bundle includes a drag-and-drop area for the CSV uploads and a button to select a CSV doc from the computer so that logged-in customers can easily upload their prepared file.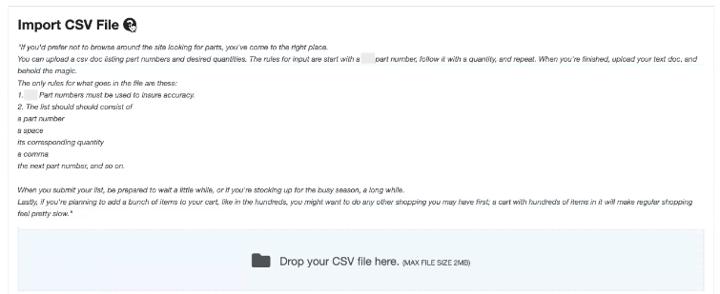 Customers can make minor adjustments to a standard order template before upload, so the order can be submitted as soon as the upload process is completed. However, it can also be a huge time saver to upload a long list of frequently purchased items to the Cart and then make minor adjustments to the order.
Secure Shopping
On Forney's IP domain, this solution locks down the shopping component of the site for non-logged-in users. Visitors are allowed access to the homepage but are redirected to the login page if they try to access any PDPs, PLPs, or search results before logging in.
Custom Store Locator
Forney's retail sellers and service centers are key long-term relationships to maintain. Because of the volume of locations involved, Forney needed a way to automate their store eligibility long-term. e developed a fully custom Store Locator feature that integrates with Google Maps and provides automatic eligibility maintenance by checking each location's historical sales data: locations that are frequent, recurring customers are displayed in the locator, while those that are not providing sufficient value are automatically removed.
Sirv Gallery Integration
Another feature that Forney saw a need for was a robust image slider on product detail pages. Our team at Anchor Group met this pain point through our Sirv NetSuite Integration bundle. This image slider now allows for images, 360-degree spin, documents, and videos on Forney's website!
Prop65 Warning
Businesses with an e-commerce presence face the unique challenge of needing to comply with certain State-specific laws before knowing where a customer is located. In order to meet California compliance requirements, we set up a Prop 65 warning in SuiteCommerce for Forney.

This customization displays a Prop 65 warning message in the Cart for customers with shipping addresses in CA, as well as for non-logged-in users. This enables Forney to remain compliant with California State law without displaying unnecessary messaging to logged-in users to whom Prop65 does not apply.
Koerber Shipping Integration
To provide seamless integration with their 3rd party WMS system, we developed an integration with Koerber's APIs to return accurate shipping options and costs in checkout. This solution includes a box-sizing algorithm that determines the best container options for an order before returning a quote from Koerber for the available fulfillment options.
Product Rebate/Registration
We were able to replace two external forms that Forney used in their old system for Product Rebate and Product Registration submission. Our Product Registration/Rebate Form solution for SuiteCommerce provided a higher degree of automation than their prior solution. This rebate and registration automation includes functionality like the ability to validate serial numbers against historical lists and notify key team members of submissions, all within My Account.
Case Management Zendesk Replacement
Through collaboration with Forney's Customer Service team, we were able to customize and automate NetSuite's Case Management system so successfully that Forney was able to drop Zendesk from their system lineup.
Order On Behalf of Subcustomer
Forney was looking for a way to allow customers to log in and order on behalf of sub-customers. Our team of developers resolved this pain point by creating a Single Login Customer Swap extension for SuiteCommerce, which allows a user to swap between customer records without having to log out and back in!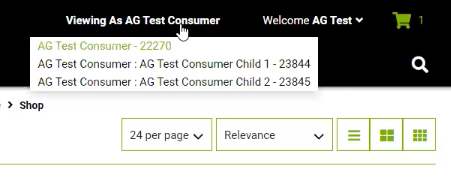 Contacts associated with multiple customer records can choose which one to log in as upon initial sign-in. Once signed in, a contact can toggle between customer records anytime.
Addressing a Mid-Project Change
It was in implementing the Single Login Customer Swap solution that Forney saw their prediction of Anchor Group's approach to mid-project changes come true.
This login feature started as a slightly different customization which Anchor Group built off of Forney's requirements. The original customization had already been tested, it was ready, and a month and a half before go-live Anchor Group saw a better fit in the Single Login Swapping Feature, which they had just developed based on the requirements of another customer. As mentioned above, access to additional features and functionality like this is just one of the ways that companies can benefit from working with a partner like Anchor Group that completes a large number of SuiteCommerce projects.
Anchor Group's Project Manager for Forney decided to open up a discussion around the solution alternative, knowing that while Anchor Group's original solution was sufficient for Forney's needs, this new option was much more robust, simpler to maintain going forward and would meet Forney's needs better in the long run.
"I was thoroughly impressed when [the project manager] brought it to our attention. It was risky for him to come to us and say, you know, we believe in what we built. But for your purposes and just the way that we understand your business, because we understand it so intimately, we think this is a better option for you . . . It just it speaks to integrity I believe." -

Hillebrand
After discussing details around what the change would look like for them, Forney decided to move forward and adopted the Single Login Customer Swapping tool for their SuiteCommerce website on the recommendation of the project manager. This speaks not only to Anchor Group's ability to follow through on keeping the best interest of the customer at the forefront of each project but also to the trust that Forney's team was willing to place in us as they accepted the risk associated with this change.
"We're all better for it, right. That's what it's all about, creating a trust in partnership that helps both sides." - Camacho
Since the completion of their SuiteCommerce implementation project, Forney has seen success both with the system as a whole and with the login swapping feature in particular.
---
That's all for now! We hope that this customer success story has helped you gain a better understanding of SuiteCommerce, the implementation process, and how our team here at Anchor Group can customize SuiteCommerce to fit your business. If you have any questions or want some free consulting advice, you can contact our team any time!