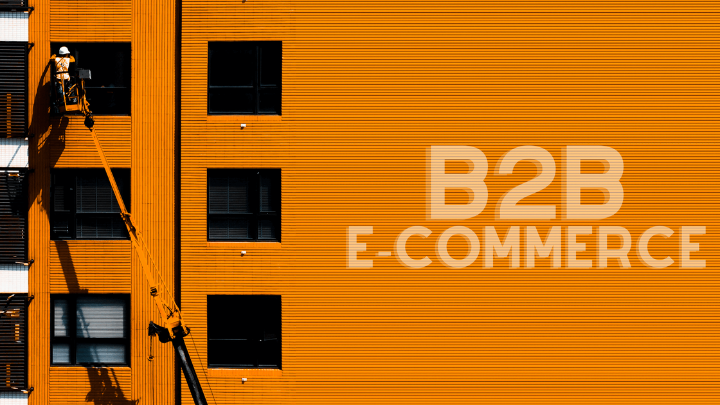 Which is the better ecommerce platform, SuiteCommerce Advanced or OroCommerce?
1. B2B and B2C
SuiteCommerce Advanced and OroCommerce both have a wide variety of B2B options. But even if your business primarily operates as a B2B company, there may be an opportunity for you to expand into a B2C market. So even if B2C ecommerce isn't a part of your primary plans, it's definitely worthwhile to examine the B2C options available within the ecommerce platforms that you are considering.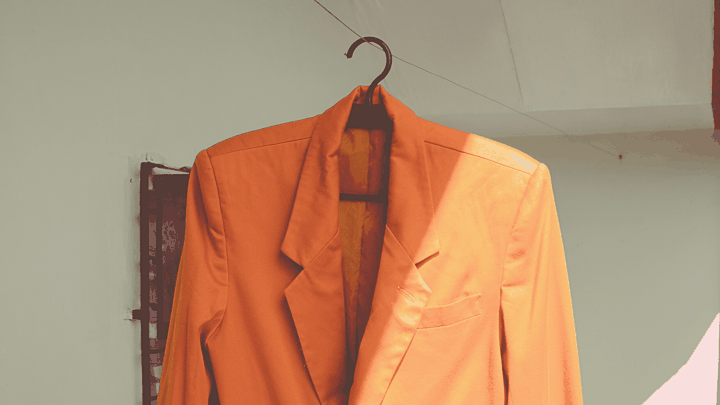 SuiteCommerce Advanced
SuiteCommerce Advanced is built for both B2B and B2C companies. However, unlike many other platforms that claim B2B functionality while really just using B2C features to "fulfill" those B2B needs, SuiteCommerce Advanced truly does meet the needs of both B2B and B2C companies.
Pro: Includes all of the native B2B and B2C capabilities your company will need including custom prices, terms, and credit limits.
Con: None. SuiteCommerce Advanced is a robust platform for B2B ecommerce, and if you do find a feature that is missing, it can likely be added through a customization or third-party app.
SuiteCommerce Advanced B2B tools include things like tracking sales through additional channels outside of your web store. My Account tools for B2C include the ability to check order status/history, as well as address book management tools, while My Account tools for B2B allow buyers to manage quotes, view outstanding fees and/or credit, make payments online, and place orders from personalized catalogs. Other native tools include estimates and quotes, as well as stock visibility for users.
OroCommerce
The strongest arguing point that an OroCommerce salesperson will have, is that OroCommerce is built specifically for B2B companies. This means that the B2B features are truly B2B, not just B2C options that can roughly fill a need. OroCommerce B2B capabilities include digitalized product catalogs, online ordering through self-service websites, quote-to-order portals, and multi-vendor marketplace features. However, while OroCommerce can fulfill B2C ecommerce needs, it is a bit lacking in B2C features due to the focus on B2B.
Pro:

Good for businesses that are strictly or largely focused on B2B ecommerce.

Con:

If B2C will be a large part of your ecommerce sales, this might not have all of the features you need.
If your company's focus is B2B ecommerce, then OroCommerce would likely be a great solution for your business. Since OroCommerce is a growing platform it also might be a good idea to check out the latest product news updates from the Oro Inc. team, so you can stay up to date on both B2B and B2C updates.
B2B and B2C Champion
It really depends on your business. If your company serves both B2B and B2C customers fairly evenly, SuiteCommerce Advanced is definitely the better option at this point in time. However, if B2C will be only a small portion of your ecommerce efforts, then OroComerce will likely meet your companies needs.
2. ERP
It's important to consider whether an ecommerce solution will connect with your current ERP system, as well as how well it will connect. Some ERP-to-ecommerce connections are seamless, while others will require clunky integrations. Depending on your situation, you may want to pick an ecommerce solution based on your current ERP system. In other cases, it may make sense to revamp your ERP system when selecting a new ecommerce platform.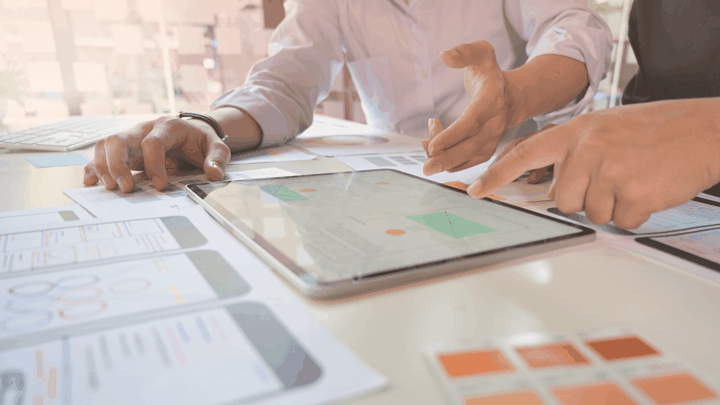 SuiteCommerce Advanced
NetSuite ERP is the foundational software that all of the other NetSuite products connect into. One of the biggest advantages that NetSuite has over its competitors is that all of the various NetSuite Modules integrate seamlessly with the ERP system. This means that you don't have to pay a developer to build integrations to connect your ecommerce solution with your ERP, CRM, or WMS systems.
Pro: SuiteCommerce Advanced seamlessly connects into NetSuite ERP and other NetSuite Modules.
Con: SuiteCommerce Advanced requires NetSuite ERP.
If your company already uses NetSuite ERP, SuiteCommerce Advanced is definitely your best option for ecommerce. If SuiteCommerce Advanced is appealing to you, and your company does not already use NetSuite ERP, I highly recommend reaching out to a NetSuite Consultant who can help you learn whether NetSuite ERP would be a good fit for your business. If switching over to SuiteCommerce Advanced will help you grow your business, it's definitely worth the extra investment upfront.
OroCommerce
There is currently no Oro Inc. ERP system available. Instead, the company has what they call OroPlatform which is a RAD (rapid application development) platform that their customers can use to build their own PIM, CRM, or ERP platform. The platform is based on PHP and Symfony, and allows developers to create secure and seamless applications. OroCommerce can also connect to some existing ERP solutions, and there are even some ERP integrations available on their app marketplace.
Pro: You can build an ERP system to fit your unique business needs, or connect to an already existing ERP platform.
Con: There is no ERP platform made specifically for OroCommerce by Oro Inc. yet.
As I said above, if you already work with a NetSuite ERP System, SuiteCommerce Advanced is the way to go for ecommerce. However, if you are currently using a different ERP system that you are happy with, you should check to see if it integrates well with OroCommerce.
ERP Champion
I really think that SuiteCommerce Advanced has a better ERP connection at this point in time. While there are a lot of options out there for connecting OroCommerce to ERP platforms, the flexibility doesn't come without a price. Until a solution exists that is built specifically for OroComerce, SuiteCommerce Advanced will likely remain the winner when it comes to ERP integrations. However, it's important to remember that OroCommerce is a very new platform. As the OroCommerce community grows, I imagine that we will see the release of an ERP platform made specifically for OroCommerce by Oro Inc. before too long.
3.CRM
In an age of global ecommerce, you either need to make a product so good and so different from anything your competitors are capable of creating, that there is no company on earth who can compete... or you need good customer relationship management.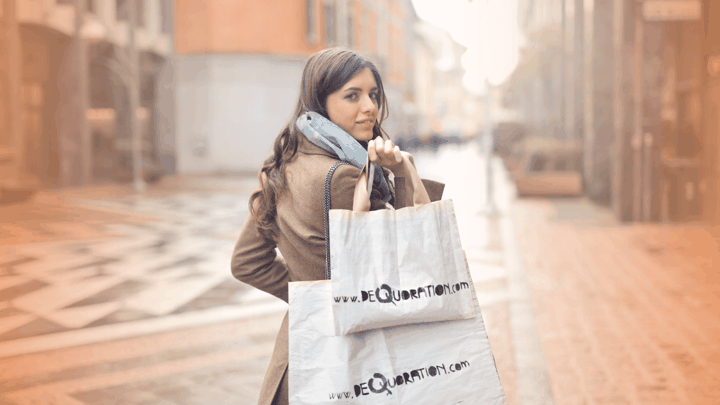 SuiteCommerce Advanced
SuiteCommerce Advanced connects straight into NetSuite CRM, which enables your business to manage the complete customer lifecycle and adapt to customer needs. The NetSuite CRM platform is seamlessly integrated with NetSuite ERP and SuiteCommerce Advanced, giving your managers more control and visibility of important data and analytics without all the clunky integrations. NetSuite CRM features such as upsell and order management, marketing automation, and a 360-degree customer view help you meet goals such as increasing sales performance or strengthening relationships.
Whether you are looking to streamline your lead-to-cash process, elevate productivity, or enhance your customer service capabilities, NetSuite CRM has all of the tools your company could need. With NetSuite CRM, you have access to information about the entire customer journey, and it's all accessible through customizable dashboards and reporting.
OroCommerce
OroCommerce has great customer relationship management capabilities when you connect OroCommerce to OroCRM. Some of the main features of OroCRM include accounts and contacts management, leads and opportunities management, and a 360-degree customer view.
Pro: OroCommerce connected to OroCRM has all of the features that your company might need for understanding your customers.
Con: None that I am aware of. Overall a robust system!
Like SuiteCommerce Advanced, OroCRM also has several features like sales and marketing performance dashboards, reporting and analytics, and RFM analysis that allow you to collect, analyze, report, and use data to further your ecommerce efforts. With a 360-degree view of your customers, you can better understand why sales suddenly increased or decreased, and what makes your customers unique.
CRM Champion
This one might be a toss-up. While a feature by feature comparison would show differences in how certain capabilities function and how features are named, the two platforms seem to compete rather well. OroCRM has a ways to go in proving that it can keep up with the performance and power of NetSuite CRM, but the integration itself, and the basic capabilities measure up pretty well.
4. Global Business Features
Does your ecommerce solution need to include a large number of language options? What about Tax and VAT features? Do you need to be able to accept a wide variety of currencies? These are all very important factors to consider when choosing an ecommerce platform.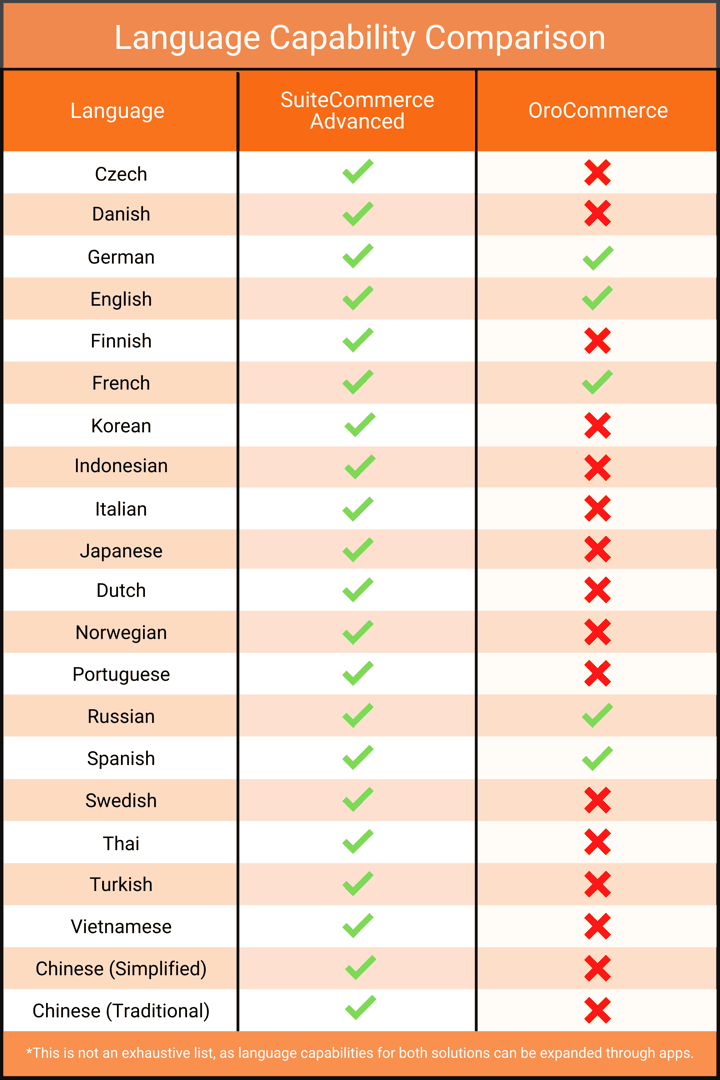 SuiteCommerce Advanced
SuiteCommerce Advanced includes a wide variety of Global ecommerce tools including the ability to sell through multiple languages and currencies in a single ecommerce platform. SuiteCommerce Advanced enables your team to efficiently and seamlessly manage business in multiple countries.
Pro: Great global tools that enable you to truly sell your products globally.
Con: If you operate in certain countries, there may still be a need to add some location or culture-specific features through customizations and apps.
SuiteCommerce Advanced gives you all of the tools you need to manage global business pain points through things such as tax and VAT features, and the ability to accept a wide variety of payment methods.
OroCommerce
I know it's not about the languages... but it's kind of about the languages. "Multiple" is a loose term, so when a company advertises that their platform enables you to do business in multiple languages, currencies, etc. it's important to pin down what "multiple" really means in this case. Now I know that there are many global capabilities, including languages, that can be added through customizations and plugins, but depending on the size of your business you might need a more versatile framework to start with.
Pro: Includes many global features that enable international ecommerce.
Con: Limited capabilities in this area. Depending on your international business needs, this solution may or may not include the features you need.
Since OroCommerce is a very new platform, the global features are still a bit limited. However, OroCommerce may be a good fit if your business only plans to operate in a few major areas, such as areas that speak German, English, Russian, and Spanish ....and let's be honest, that's going to meet the needs of a lot of businesses. So, even though SuiteCommerce Advanced might have more global capabilities, that really won't matter to you if those extra features are superfluous and will go unused in your business. You always want to keep in mind the specific needs of your company.
"Global Business Features" Champion
At this point in time, my vote goes towards SuiteCommerce Advanced. I feel a bit like a broken record saying it, but OroCommerce lacks some of the features currently available in SuiteCommerce Advanced, and it may simply be because it's a newer solution. Even though the OroCommerce platform seems robust, I personally might wait a bit and see how it performs for other companies before choosing it for my own business. We will be watching this platform closely as the platform becomes more established. I imagine that even the language list above will be soon outdated as OroCommerce continues to develop.
5. Add-ons
While manual customizations are great, sometimes a good solution has already been built. Add-ons are a great way to save your team time, by allowing them to use the work of other developers rather than having to re-invent the wheel with every project.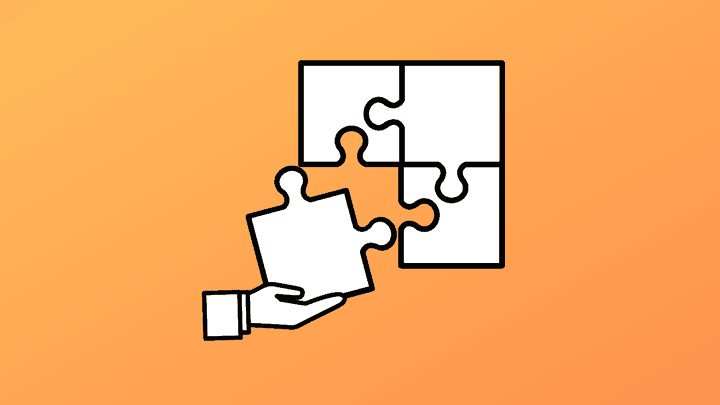 SuiteCommerce Advanced
A great place to find add-ons for SuiteCommerce Advanced is this online store. It is a small, trusted, and growing NetSuite App Store where you can find both SuiteCommerce apps, and NetSuite ERP apps.
Pro: Good add-ons available.
Con: Since some third-party apps can be poorly built, so it's important to make sure you get these apps from good reliable sources.
While SuiteCommerce Advanced gives developers direct access to the source code, sometimes it's nice to plug-in a solution that other developers have already created.
OroCommerce
As with SuiteCommerce Advanced, there are many extensions available that can be plugged into your OroCommerce platform, saving your developers great amounts of time and energy. For OroCommerce, the best place to find apps like these is the OroCommerce Marketplace. They have many different approved apps available that are ready to be plugged into your platform.
Pro: There are many good apps available.
Con: Like with SuiteCommerce Advanced add-ons, you just want to make sure that you only use apps from reliable stores.
My only hesitation, which I wish to make note of here, is that since OroCommerce lacks features in some areas when compared to SuiteCommerce Advanced, it will require more add ons in certain cases. For example, there is a danger that a large enterprise using OroCommerce could end up with a more complex web of plugins to keep up on than if they had used SuiteCommerce Advanced. Again, though, where those extra features are not needed, OroCommerce will definitely be the better fit for many companies.
Add-ons Champion
I'm calling it a tie. Both platforms have wonderful options when it comes to add-ons, you will just want to be sure and use apps well, regardless of the platform you chose. Work to balance code customizations with plugins. You don't want to overwork your developers by having them re-create existing solutions, but at the same time, your answer to every missing feature should not be "find a third-party app".
6. Support
After you have purchased and launched your ecommerce site, you might still have questions.
SuiteCommerce Advanced
The SuiteCommerce Advanced platform is very well-established, and that means that their market has driven up the number of help resources that exist. While online help forums have their place, you may want more personalized help. The best support option is a NetSuite Developer who specializes in SuiteCommerce, and who will work with you to capitalize on the features and flexibility of SuiteCommere Advanced to perfectly fit your business.
Pro: SuiteCommerce Advanced has a great number of support resources available, from personalized consulting and developing, to extensive online resources.
Con: None that I've found.
When it comes to support, SuiteCommerce Advanced has a great system. From free online videos to in-depth personal consulting from certified NetSuite Partners, there is always someone out there who can help you through customizations.
OroCommerce
Because the OroCommerce Platform is so new, the support availability is a bit more limited. However, OroCommerce has a wonderful online resource for developers, and there are still many options for personal consulting and developing by professionals who specialize in OroCommerce.
Pro: OroCommerce has robust resources for developers available online.
Con: Help resources for users rather than coding experts are currently a bit more limited.
For your in-house developers who will be making code customizations, OroCommerce has a great help resource available. However, there are very few support resources available for the managers who will be working in the back-end of OroCommerce every day.
Support Champion
If you are an experienced developer who likes to research answers on your own, OroCommerce has the support system you need. However, if you enjoy more user-oriented tutorials, SuiteCommerce Advanced might have a better support system for you. Additionally, with both solutions, there is access to personalized help from experts who work with the software every day.
7. Summary
Taking all things into consideration, I think that SuiteCommerce Advanced is the objectively better option based on functionality and performance. It takes first with regards to B2C capabilities, ERP, and global business features. However, depending on your business needs, OroCommerce may be the best fit for you. Like SuiteCommerce Advanced, the OroCommerce platform is robust with regards to B2B, CRM, add ons, and support availability. Having told you about the basics of both platforms, this is the part where I recommend that you reach out to a developer to learn more about which solution is right for your business.
Published November 6, 2020
---
Hopefully, this post gives you something to work with while trying to understand NetSuite and what it can do for your business. If you have any questions and want some free consulting advice, feel free to contact our team at Anchor Group.