Definition - What does supply chain visibility (SCV) mean?
Supply Chain Visibility (SCV) is the traceability of product orders and physical product shipments from the source of production to their destination. This includes logistics and transportation activities and the status of events and milestones that take place before and during transit.
SCV aims to improve and empower the supply chain by making information easily accessible to every stakeholder, including customers. Integrating SCV tools or systems allows different divisions of an organization's supply chain to acquire real-time accurate information on inventory, orders, and deliveries in their inbound and outbound networks.
Anchor Group explains Supply Chain Visibility (SCV)
With extended supply chain visibility (SCV), companies can quickly react to unexpected and potentially problematic situations such as supply-side production bottlenecks, order changes on the demand side, etc.
The acquisition of SCV allows organizations to manage these situations or events, analyze their effects and orchestrate an instant solution while providing a unified view of the supply chain.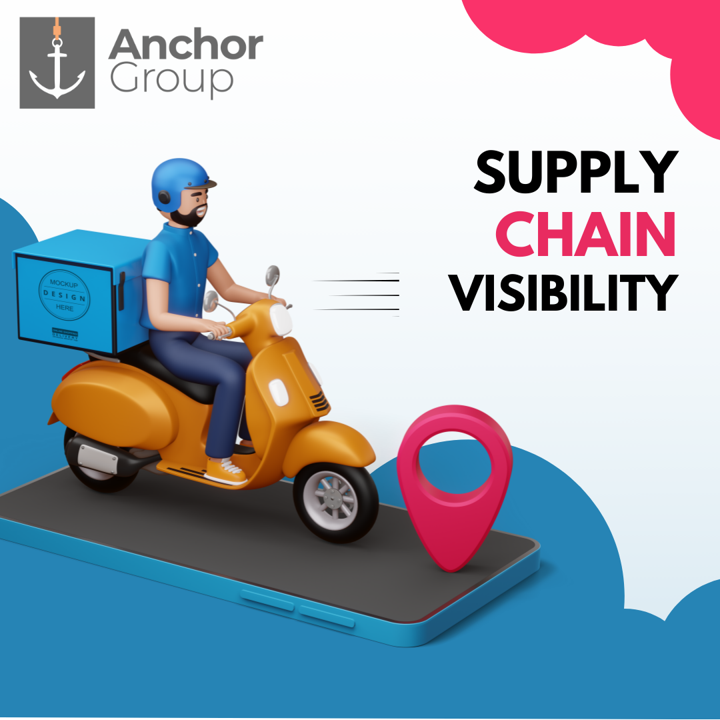 Concerns about visibility in the supply chain:
Merchandise unavailable or in a different location
Supply and transportation issues
Lack of capacity to take advantage of the international inventory network
Insufficient visibility of orders, deliveries, and stocks
Low visibility into transactions
Six essential criteria that can build productive supply chains:
Collaboration
Responsiveness, optimization, and responsiveness
Connectivity
Flexibility and execution
Agility
Visibility and calculation
When focusing on improving visibility, the following areas can be leveraged to drive improvements on the criteria mentioned above:
Link supply and demand
Channel visibility
Visibility and communication with suppliers
Characteristics of SCV
Instant access to vital information
Improving the efficiency of end-to-end business processes
Visibility of supply chain "blind spots."
Real-time visibility of customer needs
Better customer responsiveness
Superior handling and execution
Lower material and labor costs
Better inventory management
Improved monitoring and results of business metrics
Optimization of logistics and transport efficiency
.
The visibility of the supply chain as a factor that generates sustainable value
Today's supply chains are defined by their complexity and by having the customer in the spotlight. In this complex, demand-centric network, achieving complete supply chain visibility sets the leading companies apart from the rest. But what is the key to achieving it?
The challenge: the customer is the boss in a complex market
A customer who has bought a garment online and a factory manager who is waiting for an order for spare parts to ensure the permanent operation of an assembly line have something in common: they want to receive their order correctly, quickly, and on time, in the place they decide, and, of course, with the lowest possible price. If your expectations are not met, they will likely look to another provider.
It is necessary to plan and execute supply chain processes efficiently to process orders correctly and on time. Full visibility must be achieved, that is, for both manufacturers and customers, so that the necessary corrective actions can be taken immediately if a problem occurs—the faster your reaction, the lower the impact and costs to the business.
.
How to avoid the lack of visibility?
How can visibility be achieved when the supply chain is increasingly complex, with more distributors, greater geographic reach, and many more action points, handling an increasing number of SKUs and orders of varying sizes?
1. Capture relevant data in the most efficient way
It is not about managing an information overload but about capturing and sharing the relevant data of the key steps of the operation. Nor is it necessary to change all the processes or the infrastructure to analyze and optimize what is used today. To do this, it is necessary:
Eliminate supply chain complexities: The essential steps must be defined to ensure operational continuity.
Guarantee operational continuity based on the systems and processes already in use: the most efficient operational processes must be used, which have the least impact on the functional and technical environment implemented.
2. Share essential information with all stakeholders
Members of the supply chain (internal and external) must see and share essential information, even those smaller and geographically remote suppliers that use traditional processes. Therefore, a shared data platform (Data Event Execution Platform, 'repository of event execution data') is required that is intuitive and can communicate directly with the different computer systems used by the providers. Ideally, it would help with easy-to-use and integrated plug-ins to collect data at different supply chain stages.
3. React immediately to unforeseen events
Speed is essential: the sooner you react, the easier it will be to limit or avoid negative repercussions on operations, whether looking for an alternative supply source, using emergency stock, or relocating products in the shipment phase. Corrective action costs will also be drastically reduced.
.
Main steps to convert the supply chain into a value chain - Summarized
To implement a visibility solution for the supply chain, you need to:
Perform a thorough analysis of business processes to define the relevant data (identifiers, logical links, or business events) to capture and share.
Have the advice of an expert on the necessary tools, technology, and infrastructure.
Carry out a flexible integration that adapts to the specific characteristics of the supply chain.
After its successful implementation, the visibility of the supply chain allows:
Solve any problem by facilitating decision-making, eliminating or reducing the risk that orders are processed incorrectly, incompletely, or late.
Reduce the cost of corrective measures.
Better analyze and understand past incidents to gain operational efficiency for the future.
In short, it enables business agility, fosters greater external collaboration (both with business partners and with members of the supply chain), and accelerates business innovation. All this translates into improved service levels, cost reduction, more competitiveness, and greater value generation.
According to surveys, 70% of companies have supply chain visibility at a critical level. How to change this?
Before reflecting on this topic, it is important to highlight that productivity in logistics is a fundamental factor and is totally related to the visibility of a business.
Companies with inadequate visibility of the supply chain may have ineffective logistical control systems or are often flawed and with long periods of time in the transfer of information.
A recent logistics survey also pointed out that 13% to 35% of cargo does not meet the required quality requirements. Therefore, one must believe that real-time connectivity and information sharing are fundamental aspects to correct and repair this data. 
.
Tips for Implementing Supply Chain Visibility
To improve performance around the visibility of the supply chain, investments in technology have taken many businesses out of the water and impacted increasing productivity in the supply chain.
Despite the challenges, there are constant investments in technology in the logistics area. In addition to logistics 4.0, many innovations have reached the market and made companies more competitive. These are solutions that aim to increase business productivity and revenue, as well as reduce manual processes.
In logistics, many companies misuse Transport capacity, thus harming their efficiency. However, with the help of 3D cameras at charging stations and with suitable information analysis software, companies can collect and analyze various data about the charging process, Transport stage and obtain important space and speed metrics, rate of filling, and loading techniques used by employees.
Thus, when the system detects errors or inefficiencies, a notification is sent to the logistical administrator, who supervises it through a tablet or his desk.
With this information in hand, the supervisor can intervene. For example, improving the training of your employees and thus increasing the quality of the loading process and the efficiency of the fleet. The barcode for the storage process is also embedded in the logic of the internet of things, and these are some examples of how IoT works in connected companies.
.
What is the impact of real-time visibility on logistics?
Having data on the progress of processes allows companies to improve planning and discover new sales opportunities, and more than that: even new business models.
IoT solutions have developed real-time visibility, promoting other innovative solutions that bring companies closer to a connected and smart future.
Real-time visibility can have a critical role in security strategy, both logistics as day-to-day business. After all, the spread and expansion of connected devices have made the market more complex and competitive. Only visibility allows companies to fight increasingly sophisticated competitors.
Another noticeable change is the integration of business systems, IT, and operational technologies. As a result, companies have had to radically rethink how they use technology resources to transform the effectiveness and efficiency of operations.
Thus, with the new opportunities in the digital environment, digital security becomes a priority for businesses. One way to identify all vulnerabilities and act proactively is to use real-time visibility, focusing on security and solutions for the competitive market.
In other words, it is necessary to have continuous monitoring, with real-time data on activities related to high-value assets – such as those most targeted by hackers: banking data or intellectual property.
Real-time visibility should include all managed and unmanaged assets (such as shadow IT, legacy systems, and IoT) and associated communication links. With the resource, it is also possible to identify an "abnormal behavior" within the company and if everything is within the normal range.
In practice, real-time visibility is critical to transforming security strategy and achieving the customer experience.
.
Logistics solution based on the Internet of Things concept
Finally, the Internet of Things has a series of interesting applications that help revolutionize the logistics sector of companies. Organizations that choose to apply the concept in their business can experience a significant increase in productivity. As well as greater control and better management of internal business issues in the long term.
This is already a reality, especially in the business and industrial sectors. Several examples can be cited, such as:
sensors in machines to measure productivity;
sensors in the manufacturing sector, which indicate the timing of replacement of inputs;
use of the Internet of Things for inventory control;
use of smart light bulbs as a way to save electricity, among others.
.
What is Industry 4.0?
Industry 4.0 is a competitive differential. The arrival of Industry 4.0 has transformed the way of working in the industry. The changes are associated with the modernization of services, a characteristic that impacted logistics.
Industry 4.0 designed a scenario in which data intersect, logistical processes act in technological synchrony:
information is obtained and used in a simple, transparent, and accessible way;
the logistics systems communicate;
access to solutions is smart.
The logistics are closely following the technological innovations. The industrial processes are absorbing these changes. The result is the transformation in the way of work in the sector.
The use of innovations, new technologies, and production routines helps maximize results and make the logistic process more efficient.
.
Supply chain visibility, what technologies make it possible?
In recent months, the lack of agility and flexibility of logistics operations to respond to urgent demands has been exposed, and a lack of technological solutions to manage and implement new strategies. In this context, supply chain visibility is critical.
The supply chain must be more resilient, agile, and autonomous. To achieve this, you need greater transparency of each of the processes and operations. Ideally, you should know at any time where the products are and when they will arrive.
Some of the opportunities that are emerging in digital manufacturing and logistics are remote monitoring and diagnosis of operations and assets, as well as the strong investment in process automation.
Visibility in the supply chain is key to successful automation and greater resilience. One of the technology trends that is driving this issue is robotic process automation (RPA).
By 2023, 50% of warehouse activities will use robots and location data analytics to optimize warehouses, increasing capacity by 20% and cutting order processing time in half.
There will also be a convergence of IT data and operational technology, unifying the information that arrives from the sensors of the factory plant through transportation and integrates with IT functionalities, allowing greater visibility in the supply chain and decision making. By the data.
When visibility is achieved in the supply chain, there have been decreases in process time from 60 to 45 days in a long and complex chain. A company that implemented machine learning to foresee potential problems in the inventory, reduced the reception time of the distribution center by 50%.
.
How do companies invest in the supply chain?
According to a survey, more than 50% of companies plan to improve their supply chain to optimize inventory and warehouse management efficiency in the next three years.
In the supply chain case, the priority is to invest in critical infrastructure to improve performance, decrease operational risk, and improve resilience.
By the end of the following year, 35% of large manufacturing companies will have automated data analysis of their suppliers and expenses, improving productivity by 15%.
.
Understand Supply Chain Visibility Challenges
What are the biggest challenges in logistics? These include cost increases, facing global competition, the need to deliver better services to customers, reducing delivery times, and relying on a reliable infrastructure. And the solution to all the challenges lies in the greatest visibility of the supply chain, possibly from its digitization.
According to a study, the development of Industry 4.0 faces challenges that begin with investments in equipment that incorporate new technologies, including the adaptation of processes and forms of relationship between companies throughout the production chain, creation of new specialties and skills development, among others. The crossing of information that makes it possible to connect purchase orders, production, and distribution autonomously, without people having to make decisions all the time, for example, will require new forms of management and engineering throughout the entire production chain.
And the Internet of Things (IoT) plays a key role in gaining greater visibility into the supply chain. Machines and inputs begin to "talk" throughout operations with scale and flexibility in the manufacturing process, thus occurring in a relatively autonomous and integrated manner. Devices acquired in different units of the company, or even from different companies, also exchange information instantly on purchases and stocks, allowing for a logistics optimization hitherto unthinkable, establishing greater integration between the links of a production chain.
.
New skills
But your company does not always have available internal resources capable of identifying and implementing the best solutions that allow greater visibility of the supply chain. A study on the digitalization of factories, shows that 55% of manufacturers, based on a universe of 450 respondents, reported a lack of technical competence among employees, who need to operate increasingly advanced digital machines and equipment.
According to the survey, 75% of the challenges of digital transformation cited by respondents are related to skills, talents within the organization, change, or organizational structure.
According to consultants, the days of managing the supply chain in silos are over. Sophisticated data analytics enable companies to manage supply chain visibility end-to-end and, in industries such as retail, in near real-time.
In addition, analysts underscore the importance of combining operational excellence with analytical capabilities and cross-functional data-driven decision making. For this, the path is to create analytical teams to support decision-making and identify risks and opportunities hidden in unstructured data, with the support of IT or partners, delivering agile applications and platforms that favor collaboration and enable analytical process decision-making.
.
Digital Transformation and Supply Chain Visibility
The deployment of visualization tools is at the top of executives' priorities in the digital transformation supply chain. A survey points out that among 94% of the nearly 400 executives interviewed, supply chain visibility is considered essential for process efficiency.
Some of the benefits expected from the digital transformation of supply chains include cost savings for logistics, inventory, and maintenance, improved customer service, and greater equipment efficiency on a global scale.
More importantly, the expectation among respondents is that digital supply chain transformation will dramatically increase the agility of their businesses. For them, speed is needed to respond to changing market conditions, new entrants that can threaten existing business models or unexpected chain interruptions that have caused significant damage to the financial performance and reputation of countless organizations over the years.
.
Steps to increase visibility
But it is not only the implementation of new technologies that will improve the visibility of the supply chain. Processes also need to be rethought.
First, you need to identify everyone involved in the supply chain (internal and third-party) and what information should be shared with each of them to streamline operations.
Second, it is necessary to establish performance indicators for the most important processes in each stage. This measurement will allow us to measure the results and evaluate the return on investment in each stage, such as cargo transportation.
Third, it is necessary to gather all the indicators directly linked to the changes and identify the gains and improvements in the business.
And, finally, it is necessary to carefully select the technology partner that will contribute to the digital transformation and increase the visibility of the supply chain, capable of providing robust technologies that improve the management of logistical processes.
Find out how the NetSuite can contribute to the visibility of the supply chain and efficiency of the logistics operation, integrating diverse systems of the company, partners, and operators by contacting our NetSuite consultants.