If you are new to the NetSuite space, you may not have heard much about SuiteCommerce Advanced and how it can transform your business into an ecommerce machine. NetSuite ecommerce is a common search topic because your ERP drives your ecommerce experience. As you grow your business data infrastructure, you will eventually decide to open up new channels of business. This might include integrating your product data to Amazon, eBay, Walmart, Sears, Etsy, or other online marketplaces. At some point, you will recognize that each of these platforms are eating into your margins and your loyal customers are willing to take the extra minute to shop directly on your own website. Since you don't have to pay for each product to be sold on another platform, you can increase your margins. In addition, you can create a dedicated customer portal to use for both B2B and B2C ecommerce users. Some companies have found that SuiteCommerce Advanced is ideal for a portal and use it solely for that too. 
Customer Portal for NetSuite Ecommerce
Some companies in the Wholesale and Distribution space don't even use the shopping aspect of a SuiteCommerce website and decide to use SuiteCommerce entirely for its high-performance customer portal. The customer portal can be customized for nearly any possible scenario. SuiteMarkets created a Custom Records extension that allows for NetSuite custom records to display in "My Account." This feature is extremely useful for many companies that are looking to display customer-specific information that is unique to their business or vertical. Some companies want to give their customers the ability to modify an existing order that hasn't been shipping directly from their account. This is ideal for wholesale companies shipping by the truck load to different locations. You might want to reach out to a NetSuite consultant to help you determine if this options works for your company.
Reasons to Purchase SuiteCommerce Advanced with NetSuite ERP
NetSuite ERP drives the ecommerce experience
You can have both a B2B and B2C website all in one
Endless ways to access your ERP data for ecommerce usage
Customer portal for retail, wholesale, distribution, software, services, and more
SuiteCommerce is already integrated into NetSuite
Fully customizable
SEO friendly
Mobile-friendly (out of box mobile friendly)
Cost of a SuiteCommerce Implementation
Getting your SuiteCommerce website implemented ranges in cost, but the result of the website will dramatically change if you pay less for the implementation. You can expect to be paying at a minimum of $15,000 for a SuiteCommerce implementation and a minimum of $50,000 for a SuiteCommerce Advanced (SCA) implementation.
There are a variety of factors involved with the cost for a SuiteCommerce implementation. Here are some of the main factors.
Reasons for SuiteCommerce Implementation Costs to Increase
You want to build a custom theme
You have customizations to add functionality
You want more hand holding for data migration
You need more help with SEO based tasks such as website migration support including redirect extraction help. This might be accomplished in Google Search Console.
You need more help with Google Tag Manager or Google Analytics
You have a tight deadline and more resources need to be thrown at the project
You need graphic designs
These are just a handful of factors that impact your NetSuite SuiteCommerce or SuiteCommerce Advanced implementation. If you want to learn more about what SuiteCommerce is as a product, check out this detailed page that describes SuiteCommerce to every detail you would need to know.
Want a SuiteCommerce Implementation Estimate?
Anchor Group is specialized in SuiteCommerce & SuiteCommerce Advanced (SCA) implementations. Make sure to contact Anchor Group for a free implementation estimate!

Oracle NetSuite Alliance Partner & Commerce Partner
---
Hopefully, this post gives you something to work with while trying to understand SuiteCommerce and what it can do for your business. If you have general questions about SuiteCommerce, or more specific questions about how our team can support your business as you work to implement NetSuite or SuiteCommerce, feel free to contact us at any time. Anchor Group is a certified Oracle NetSuite Alliance Partner & Commerce Partner, and is equipped to handle all kinds of NetSuite and SuiteCommerce projects, large or small!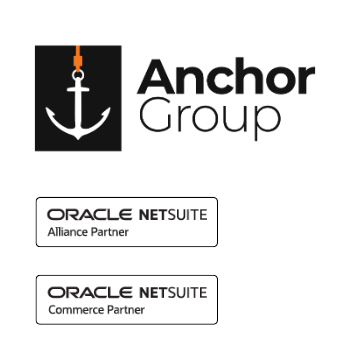 ---
FREE SuiteCommerce Book
Want to learn more about SuiteCommerce and how it can benefit your business? We'd like to gift you a FREE NetSuite Ecommerce paperback book! Here at Anchor Group, we pride ourselves on having the heart of a teacher... this is just one of the many ways that we follow through on that value. So, what are you waiting for?
Order the free SuiteCommerce book today, and we'll even pay for shipping!