For most eCommerce sellers, technology is their lifeblood – it enables them to sell, manage and warehouse inventory, communicate with customers, and track orders as they move from manufacturer to warehouse to shipping provider. That tech stack represents what an eCommerce business is able to achieve, both in terms of external customer service and internal management and scalability. 
It's especially important as merchants expand to multi-channel sales, which is critical for modern retail. Brands that sell across different platforms see as much as 3X the engagement as brands selling on a single channel – yet, your ability to do so is often dependent on whether or not your tech stack supports a given channel.
Retailers rely on platforms like Amazon for exposure, while using other channels like Walmart.com and eBay as additional revenue streams, and Shopify or their own website to improve brand loyalty and customer retention.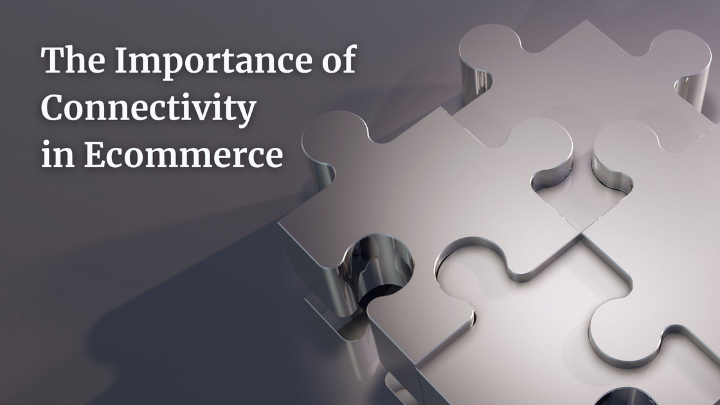 Having synchronized processes and data across applications is critical in the new era of eCommerce, and connectivity is becoming more important than ever. So much so that companies like Pipe17 are focusing on delivering robust connectivity solutions designed to address the specific needs of ecommerce brands and merchants. 
.
Synchronized data enables multi-channel sales 
Multi-channel sales rely on synchronized data. It requires each of your eCommerce platforms communicate in as close to real time as possible. Without real-time inventory management, eCommerce stores can't scale. If you can't update inventory counts across channels, you'll have to take on the high cost and risk of split inventory to avoid overselling. 
Synchronized data also impacts everyday processes, including data entry, product orders, and invoicing. If all your selling platforms communicate through a single data hub like Pipe17 that keeps all your data and processes in sync, data entry specialists can focus on other work.
If they don't, you'll need someone to manually upload orders from one platform to the next. You'll have to manage orders on multiple platforms, which carries many risks, including greater human error and missing orders.
.
Too many eCommerce systems don't connect 
While businesses observe an increasing need for platforms to "talk" to each other, the reality is slow to catch up. Today's eCommerce market is flooded with new applications and tools which, for the most part, is a good thing; sellers have more choice than ever in terms of how to grow their business.
But, without a foundation of pervasive connectivity between these options, many are forced to choose sales and fulfillment channels based on what their ERP can support (or how much it will cost to support them in the ERP). There are a number of ways to get to this connectivity foundation. 
While many systems offer an API, and 67% of developers embrace API-first development, using API requires in-house developers or paying for custom connectors, which can cost many thousands of dollars up front. Most eCommerce teams like to keep operating costs low, meaning custom development is out of the question. 
Some applications come with built in connectors, but these are often deficient because they don't support the full range of eCommerce applications and processes that the business requires. Lack of connectors isn't the only problem with eCommerce connectivity: 
Connectors that only transmit limited data types and don't cover some of the use cases that customers require, e.g. product catalogue synchronization. 
Connectors that only push data one way. This means Amazon and Walmart can update inventory in the ERP, but you also need the ERP to automatically adjust reconciled inventory back to those marketplaces and any other channels. Otherwise, you'll oversell. 
Managing multiple point-to-point connectors. eCommerce sellers find they lose track of connections, things break without them noticing, and then the whole process goes wrong. 
Many APIs are limited based on expected connections per period. If you exceed that amount, your API often will simply deny connections. That can make sudden sales peaks difficult to handle unless you communicate with developers in advance. 
Many vendors will offer to 'customize' their connectors for an additional fee but this gets expensive (back to funding development) and once built they become unsupported software that the user maintains.
But it goes deeper than connectors and data synchronization. The future is connectivity that can provide additional value because it 'understands' ecommerce. 
For example, imagine trying to connect:  Shopify, Point of sale, 3PL, wholesale systems, EDI, financials, returns system, etc to your ERP. If the connectivity knows that the specific data it is moving is an "Order" then it can offer additional services like routing it to a different location depending on the SKU or holding a specific high dollar order for approval. Imagine intelligent connectivity that actually helps you run your operation more efficiently. 
To sum it all up, if your eCommerce tools and platforms don't communicate, you're forced to choose tooling based on whether it communicates with one or more elements in your existing stack. And, if they don't connect at all, you create an artificial need for data entry, prolonging required man hours per order and increasing your team's workload.
.
Headless Commerce and Connectivity
Increasingly, eCommerce sellers are switching to Headless Commerce  to deliver better experiences to their customers.  The idea of headless is to separate out the commerce and fulfillment features from the presentation and content layers that the customer interacts with (the "head'). In doing so a seller can be more creative with their customer experiences and commerce and fulfillment services - the part of the business that needs to be very stable and consistent --  can be easily shared across multiple touchpoints (website, mobile, point of sales etc). For example with headless it is much easier to offer customers a single account they can purchase from regardless of whether they are in your retail store or online. 
Headless Ecommerce is one of the hottest areas today with vendors such as CommerceTools, Chord, Fabric, Spryker, Commerce Layer and many others vying for customer's attention. What all of the platforms share in common is the need for a robust connectivity solution. 
Decoupling the commerce platform and making it available to other applications entails building custom connectors. This allows the application or platform to send data to and from another platform in close to real time. In most cases, that includes synchronizing inventory, orders, inventory flows, and other data between shopping carts, marketplaces, 3PL or fulfillment vendors, warehouses, and ERP. Ultimately, it also ties into order and inventory management. 
Companies like Pipe17 are partnering closely with headless commerce providers to deliver solutions that are both flexible and easy to manage.
.
Wrapping up — Using smart connectivity to enable multi-channel sales
As more tools become available, eCommerce sellers will require additional data entry or in-house developers to link these tech stack elements. Smart connectivity solutions like Pipe17 remove the need for either by connecting all your applications so they work together intelligently. Because they are built for ecommerce, they are better able to support the range of eCommerce applications and processes. 
---
About the author
This is an article by Rachel Andrea Go. Rachel is a remote marketing manager with a background in building scalable content engines. She creates content that wins customers for amazing B2B eCommerce businesses like Pipe17, a company that offers smart connectivity for eCommerce businesses.