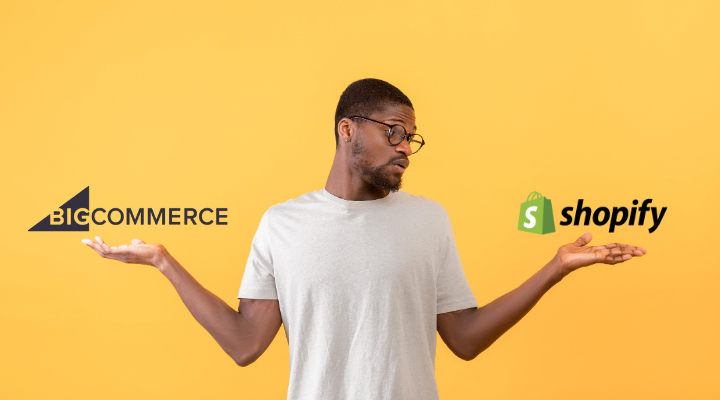 Is Shopify or BigCommerce a better fit for your business? Learning some of the high-level similarities and differences between the platforms can help you start evaluating an e-commerce platform for your business.
Website Themes
Themes are an important part of any e-commerce platform, since the theme acts as the framework for the look and feel of your website.
Shopify
This e-commerce solution comes with 12 free themes you can choose between when creating your website. If these free themes are insufficient, given your business's needs, more than 150 paid options are also available. The free Shopify themes are a good way to save money, The free Shopify themes are widely used, so your online store will likely look like your competitors' if you choose one of those, while the paid themes help you stand out. To browse and purchase a Shopify Plus theme, visit the Shopify Themes Store.
BigCommerce
When it comes to themes, BigCommerce has an edge over Shopify. BigCommerce is currently offering 15 free website themes that can be further customized to match your company's brand. There are also more than 200 paid themes currently listed on the BigCommerce Theme Store, you can explore if the free themes don't meet your needs. However, what sets BigCommerce ahead of Shopify when it comes to themes is not the sheer number available but the customizability of those themes. BigCommerce's themes are more customizable than many of Shopify's themes, from the look to the theme's functionality. If you are looking for the most flexible option for your BigCommerce website design, you will need to work with a BigCommerce theme developer who can help you with theme customizations during your BigCommerce Implementation.
Global Ecommerce
If you are a large international business or global enterprise, you will likely want to compare the higher tier plans offered for both of these solutions in detail: BigCommerce Enterprise vs. Shopify Plus. What follows is just a little high-level information about the global features offered through each of the platforms in general.
Shopify
A basic Shopify plan offers limited global e-commerce options, while Shopify Plus includes enough global options to sell in major countries and meet most customers' needs. Shopify Plus includes several language options, but some customers have complained about language issues related to the checkout page. If your global e-commerce needs and plans are limited to major markets, Shopify will likely meet your needs. However, if you aim to reach smaller, more specific markets, you should ensure Shopify Plus has the capabilities you need to succeed in those regions.
BigCommerce
The most basic BigCommerce plan only includes the English language. However, you can still localize your front-end experience through third-party API or app-driven translation. A basic version of BigCommerce can be successful for companies operating within English-speaking countries or who plan to add only a few other languages. However, all additional languages must be added using a combination of JSON translation files, Stencil CLI, and the BigCommerce control panel. If you plan to engage in global ecommerce, BigCommerce's Enterprise plan likely incorporates the features you need, from multiple languages to currency options and more!
Explore this BigCommerce Feature List to see if it has the features and capabilities that you are looking for in an e-commerce platform!
Apps, Integrations, and Extensions
Choosing a platform that can be extended through apps and integrations to 3rd-party solutions gives you a greater ability to tailor your site to fit your businesses' unique needs, and can also provide flexibility to scale your site alongside your business operations.
Shopify
The best place to find apps for this solution is the Shopify App Store, where over 8000 Shopify apps have been built by various developers. While all of these customizations are marketed on Shopify's website, it is important to note that they have been built to work with Shopify but not with the other third-party apps listed on the Shopify website. Shopify Plus currently offers a larger number of third-party applications. When the customizations within Shopify can't meet your business needs, many add-on solutions are available. However, Shopify's lack of version locking makes using various add-ons more difficult to manage.
BigCommerce
BigCommerce does not have as many apps available in its store as Shopify, but the BigCommerce app collection is still quite extensive. There are over 1300 apps listed on the BigCommerce App Store that can help you expand the functionality of your site, from simple features to integrations to third-party apps. There are apps available to add functionality for just about every aspect of your online business, including accounting, tax, Ai, analytics, reporting, B2B, wholesale, catalogs, order management, checkout, CMS, hosting, CRM, customer service, data transfer, migration services, ERP, financing, marketing, merchandising, mobile, payments & security, POS, in-store, product, shipping protection, product sourcing, sales channels, shipping, fulfillment, and site tools.
Wondering which apps you should add to your BigCommerce site? Check out this list of some of our favorite BigCommerce Apps!
ERP Integration
Both Shopify and BigCommerce can be integrated with power ERP systems like NetSuite ERP. There are two options for how you can achieve this: you could use a connector or a custom integration.
Connectors are faster and simpler to set up since they function as a plug-and-play connection with minimal customization. The downside is that depending on the connector you use, you may be limited in the data passed between the systems, so it's important to ensure you choose a high-quality connector.
On the other hand, custom integrations can be tailored to meet your business's unique requirements, but they are often more of an investment upfront. You would need to ensure that your custom integration is high quality from the start to avoid future heavy repairs and customization further down the road. While switching connectors can be a pain, re-doing a botched custom integration can be incredibly costly.
Regardless of the method you choose for connecting your Shopify or BigCommerce store to an ERP system, finding a partner that has experience working with both solutions is key to making sure you achieve a successful connection. For example, if you need a BigCommerce NetSuite integration, a company like Anchor Group, which is both a NetSuite Partner and a BigCommerce Partner, might be a good fit!
A Note on Platform Comparison
In this article, we chose not to compare specific plans of Shopify and BigCommerce since we are trying here to simply give a sense of how the platforms compare as a whole, and many companies will scale between different levels of an e-commerce platform post-implementation. As you continue to research what the platforms include, make sure you are comparing like plans to ensure you are comparing apples to apples. For example, if you are a large company or global enterprise, you will want to consider Shopify Plus vs. BigCommerce Enterprise. On the other hand, smaller companies might want to compare a BigCommerce Essentials basic plan with a basic Shopify plan.
WooCommerce vs Shopify vs BigCommerce
Now that you have learned just a bit about when Shopify vs BigCommerce may be a good first for a business, you may be wondering how WooCommerce compares. We often see people asking about BigCommerce vs WooCommerce vs Shopify as they look to find the ecommerce solution that is right for their business. While we don't have an article that outlines all three side-by-side, we do have an article on WooCommerce vs BigCommerce that you can check out! Hopefully that article, in connection with this one, can help you understand how Shopify compares to WooCommerce and BigCommerce!
---
BigCommerce Certified Partner, Oracle NetSuite Alliance Partner
As both a BigCommerce Certified Partner and an Oracle NetSuite Alliance Partner, Anchor Group is ready to handle BigCommerce and NetSuite projects alike! Whether you already have one platform and are looking to integrate the other, are considering a full-scale implementation of both platforms, or simply need support with ongoing customizations, our team is ready to help answer any questions you might have! Contact Our Team!