Note: This article goes through key areas of the SuiteCommerce module to help you understand why it beats Shopify Plus, Magento, and other ecommerce platform options. Since SuiteCommerce requires NetSuite ERP, we make the assumption that you are either implementing NetSuite or already have NetSuite as a platform.
In our changing world, we have seen a dramatic increase in online sales over the past year. A major shift to online shopping has been occurring for the last decade, but the most recent world events have put more pressure on organizations to change earlier than expected. By the end of this article, we hope that you will be more informed to make an ecommerce decision.
---
Q&A With a NetSuite Expert
Anchor Group is a guest on the Paystand webinar explaining the hype on SuiteCommerce and how it compares to other platforms like Magento, Shopify, and WooCommerce.
Click on the image below to view the webinar!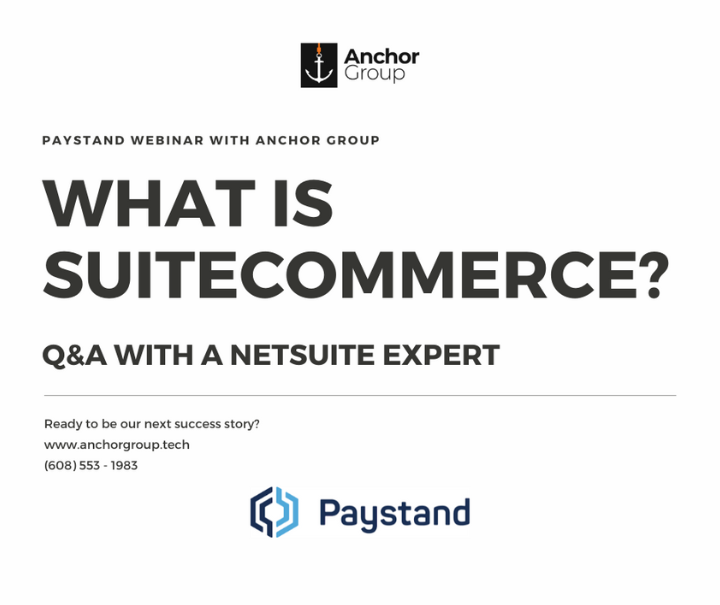 This is a great webinar that gives a high level understanding of what SuiteCommerce is and why it might be the best solution for your ecommerce platform. This platform is exclusively for NetSuite users and seamlessly sets on top of the NetSuite ERP platform. No need for an ecommerce integration with SuiteCommerce.
You will also learn about what types of payments processors are best to integrate with NetSuite and how easy they are to implement.
---
Oracle NetSuite Alliance Partner & Commerce Partner
Hopefully, this post gives you something to work with while trying to understand NetSuite and what it can do for your business. If you have general questions about SuiteCommerce, or more specific questions about how our team can support your business as you work to implement NetSuite or SuiteCommerce, feel free to contact us at any time. Anchor Group is a certified Oracle NetSuite Alliance Partner & Commerce Partner, and is equipped to handle all kinds of NetSuite and SuiteCommerce projects, large or small!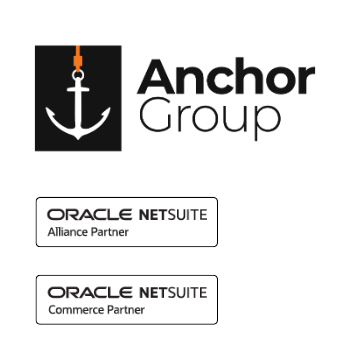 ---
FREE SuiteCommerce Book
Want to learn more about SuiteCommerce and how it can benefit your business? We'd like to gift you a FREE NetSuite Ecommerce paperback book! Here at Anchor Group, we pride ourselves on having the heart of a teacher... this is just one of the many ways that we follow through on that value. So, what are you waiting for?
Order the free SuiteCommerce book today, and we'll even pay for shipping!