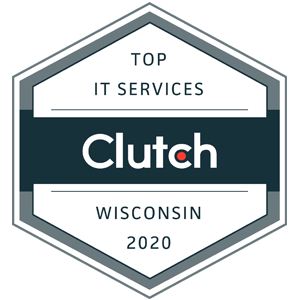 The Anchor Group team performs implementations, custom development, and managed the administration of digital services for companies of all sizes. Our vision is to strategically enable digital transformations through cutting-edge technologies and to integrate digital solutions in a seamless manner that aligns with the client's goals. With the capabilities to perform enterprise-level implementations, we have a proven track record of supporting our clients through our unique creative-problem solving solutions specific to each business.
Our team of experts consists of seasoned coders and architects who have hands-on experience working on different platforms across every time zone imaginable all so that you can rest easy knowing the Anchor Group team is handling all of your businesses' needs.
In recognition of our efforts, we're delighted to announce that we've been named by Clutch as one of the top IT service agencies in Wisconsin! Clutch is a rating and review platform of leading B2B firms that helps connect businesses with the best-fit agencies or consultants they need for their next big business challenge. Clutch cuts through disorganized market research by collecting client feedback and analyzing industry data, arming businesses with the insights and analysis they need to connect and tackle challenges with confidence.
We'd like to take this chance to thank our wonderful customers for helping us achieve this honor. They participated in one-on-one client interviews on our behalf to gauge our impact on their day-to-day operations. They ranked us on the basis of our quality of deliverables, attention to deadlines, and overall cost-effectiveness. In recognition of that feedback, we've been given a perfect 5 out of 5 stars! Check out our reviews from a current client down below: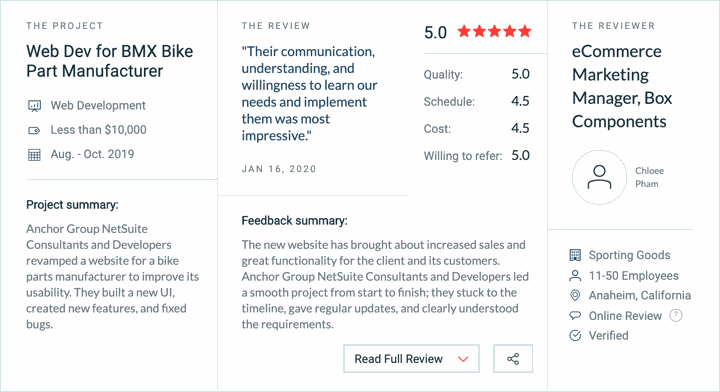 We're excited to uphold the standard of delivering optimum results for all our clients that we've cultivated here at the Anchor Group. Please reach out to us if you're interested in learning how we can help your business today!
---

Hopefully, this post gives you something to work with while trying to understand NetSuite and what it can do for your business. If you have any questions and want some free consulting advice, feel free to contact our team at Anchor Group.