Sourcing and hiring qualified NetSuite professionals can be challenging, especially during an international pandemic like COVID-19. In times of uncertainty and transition, it is important to continue pushing your business needs forward by hiring niche system experts to complete projects and fill new or vacant job openings.
When hiring NetSuite professionals, the first thing you must decide is whether you want to hire a contract or permanent employee. Both contract and permanent positions have several advantages, and both are great options depending on your business' unique circumstances and requirements. Below are the benefits of hiring contractors and permanent employees: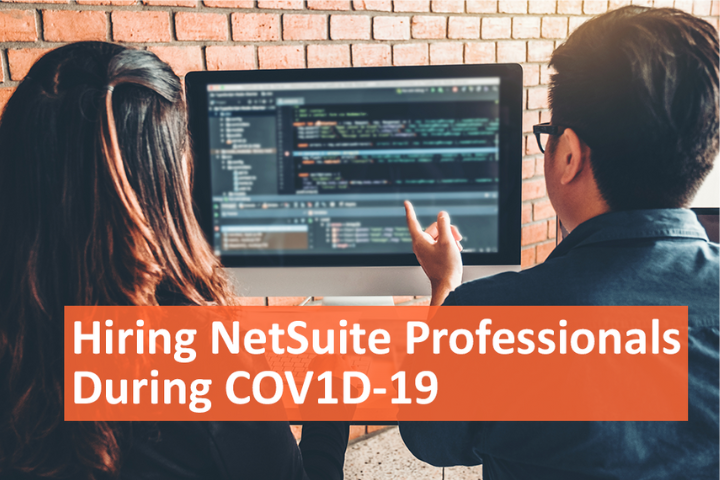 Benefits of Hiring Contractors
Contractors can Hit the Ground Running:
Contractors are usually available to start work immediately and do not require traditional on boarding and training. Usually, contractors can quickly identify the root cause of a system error and determine effective solutions to complete projects. Contractors can help companies complete and implement projects efficiently, according to project timelines.
Contractors Offer a Variety of Skills & Adaptability:
Contractors have experience working within their specific system on several different projects and companies. The variety of experience that contractors have makes them extremely efficient and independent. For example, NetSuite contractors who specialize in SuiteCommerce Advanced offer a unique skill set and expertise within a web-based platform to ensure quality implementation and return on investment. They also easily adapt to various company cultures, leadership styles, and team dynamics because of their variety of experience working with different companies, which makes contractors highly adaptable in various situations.
Contractors are Flexible:
Contractors are extremely flexible in every sense of the word as they have more flexibility in the hours they can work, willingness to travel, and remote working capabilities. Hiring a contractor also offers additional flexibility for the employers, because of the limited and short-term commitment that is required. When a project is complete and a contract is up, both the employer and employee can easily move on without severing a business relationship. When a contract is up, employers and employees also have the option to extend a contract or potentially offer a full-time employment opportunity depending on business and project needs.
Benefits of Hiring Permanent Employees
Permanent Employees Help Achieve Growth:
Contractors are typically employed for their specific set of skills that serve a particular role or project for a specific length of time, while permanent employees help to expand your core workforce if there is a long-term need. Permanent employees have a chance to gain a deep level of company knowledge and understanding that can be applied to future leadership positions as your company grows and as the employee's advances. Employers also have the option to invest in and permanent employees by offering training and courses, which further expands and strengthens a core workforce.
Permanent Employees are Committed:
Permanent candidates are usually looking for a long-term career opportunity. Permanent employees are fully committed to your company and are willing to invest in your company, culture, team, and into their role. Permanent employees will get to know their teammates, have time to adapt to company norms, and will be fully invested in performance and growth. The level of commitment that is fostered by hiring permanent employees increases employee loyalty, commitment, and long-term performance.
Permanent Roles Provide Long-Term Job Security:
In the current COVID-19 crisis and economic climate, candidates are looking for job security more than ever before. Permanent candidates prefer the security of a permanent and long-term position and are willing to sacrifice other job requirements for a sense off job security and potential career advancement. With the current state of the economy, a large of top-level niche candidates are available and looking for a permanent career opportunity.
We hope that this article offered some insight into the benefits of hiring both contract and permanent employees. Remember to consider your companies unique circumstances, ongoing NetSuite projects, and long-term business needs to determine whether a contractor or permanent employee is best for your company. To learn more about hiring contractors and permanent employees, click here.
Anchor Group's E-Commerce Consulting Services
Anchor Group is an Oracle NetSuite Commerce Partner that specializes in offering SuiteCommerce Advanced solutions. Anchor Group's team is made of developers from various industry backgrounds that provide innovative solutions to NetSuite development and implementations. Anchor Group focuses on partnering with clients in need of NetSuite SuiteCommerce Advanced and offers support for SCA implementations, administrative support, and various SCA developments. Anchor Group provides affordable NetSuite training, resources, and SuiteCommerce solutions.
Click here to learn more about Anchor Group's services and solutions.
I.T. Works Recruitment's Niche Recruitment Services
I.T. Works Recruitment's recruitment team specializes in partnering with clients that are looking for experienced, niche candidates. Their clients use high-tech software systems to facilitate all aspects of their business and identify as users of: ERP (IFS, Epicor, Infor, JD Edwards, Kronos, NetSuite & more), HCM (Workday & more), EAM (Maximo), EMR (Cerner, Epic, Athena, Meditech & more) and LIMS. At the core of I.T. Works Recruitment is a set of highly scalable, process-driven methodologies for recruiting niche experienced candidates, while driving client satisfaction.
Click here to learn more about I.T. Works Recruitment's NetSuite recruitment process.
Published April 13, 2020
---
This blog was written by Madison Edwards, a Marketing Specialist at I.T. Works Recruitment. To learn more about I.T. Works Recruitment, visit their website: https://www.itworksrec.com/ or call 678-291-0081.
---
Hopefully, this post gives you something to work with while trying to understand NetSuite and what it can do for your business. If you have any questions and want some free consulting advice, feel free to contact our team at Anchor Group.