Commerce categories are a native NetSuite feature to organize items in your SuiteCommerce site. Categories can be accessible through your site's navigation bar, and are also available under higher-level "parent" categories. However, if you have many items and many commerce categories, manually creating each individual record is time-consuming. Fortunately, we can use NetSuite's CSV Import feature to make the process more efficient.
CSV Import Template
Open up Excel or your favorite spreadsheet software, and create the following headers in the first row: External ID, Name, Description, URL, Display in Web Site, Page Title, Primary Parent, Commerce Catalog, Start Date, End Date, Commerce Category Items: Items, Commerce Category Items: Primary Category
External ID's are set at your own discretion
Primary parent is the higher-level category that the category in this row belongs to as a sub-category
Do the following to add an item under a commerce category:
Set the external ID of the row to the external ID of the category you want to add the item to
Set the "Commerce Category Items: Item" field to the item name/number of the item that you want to add
Set the "Commerce Category Items: Primary Category" field to a "T" or an "F" for true or false. The primary category that the item belongs to is the category that the item will show up under in its PDP breadcrumbs. An item can belong to multiple categories, but only one primary category.
When you are done, save the spreadsheet as a CSV file. It should look like this:
Saved CSV Import
Navigate to "Import CSV Records" at Setup > Import/Export > Import CSV Records.
Set the import type to "Website" and the record type to "Commerce Category".
Select the CSV file of commerce categories and items that you want to upload. Click next.
Select the data handling type (select "Add" if all imported records are new, select "Update" if the import is meant to alter existing records, select "Add or Update" if the imported records are a mix of both new and existing records)
For file mapping, set the following map: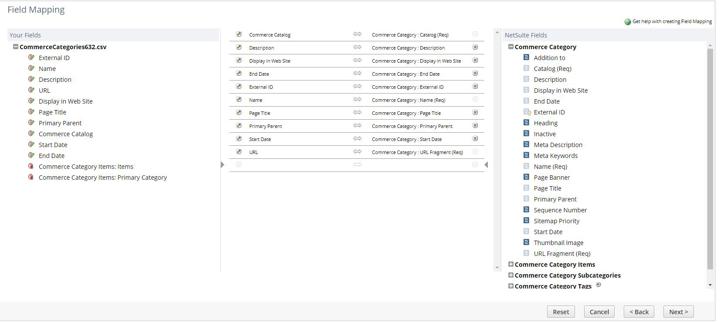 Click next. On the "Save mapping & Start Import" tab, save the import for future use, and hit run!
---
Hopefully, this post helped you customize your SuiteCommerce website and become more useful to customers. If you have any questions and want some free consulting advice, feel free to contact our team at Anchor Group.
---
Free SuiteCommerce Book for Continued Learning
Want a free paperback copy of this NetSuite e-commerce book? We even pay for shipping...
Order the free SuiteCommerce book today!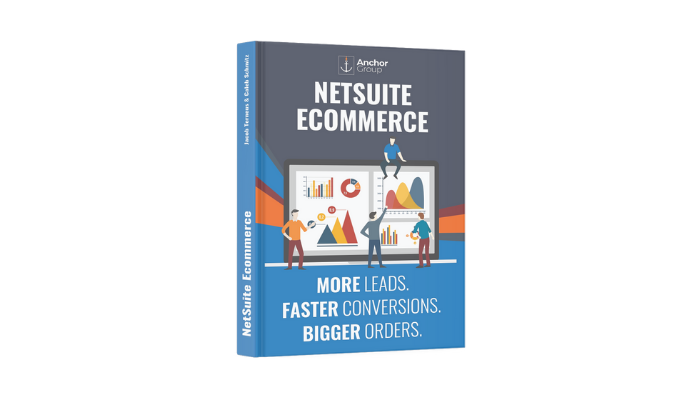 Get stuck in a step during this article?
We like to update our blogs and articles to make sure they help resolve any troubleshooting difficulties you are having. Sometimes there is a related feature to enable or field to fill out that we miss during the instructions. If this article didn't resolve the issue, please use the chat and let us know so that we can update this article!